step by step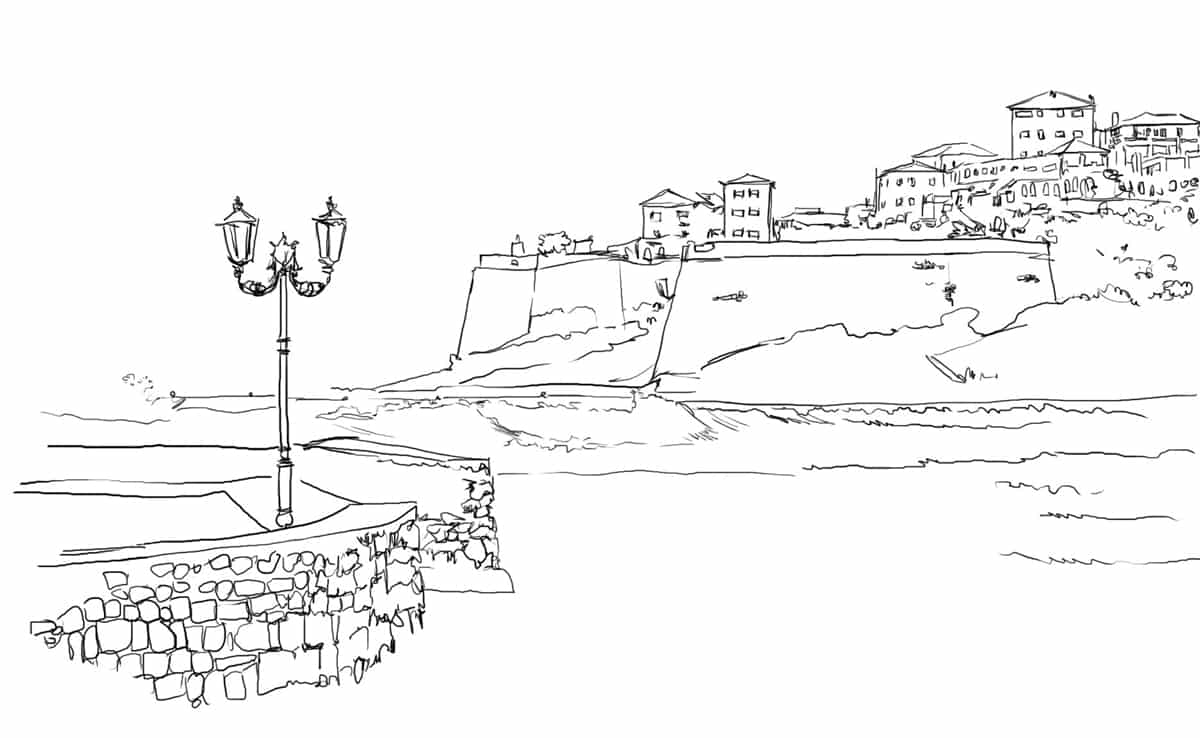 and some basic sightseeing info
On your way to the best kitesurfing beach in Montenegro you will eventually arrive in the city of Ulcinj.
Ulcinj is very, very, very old town. Some say it is about 2500 years old. Actually, archeologists and historians made that a fact. Ilirians, ancient Greeks, Romans, pirates, and who knows who else lived and still lives here. So, there is a lot to see and discover in and around Ulcinj.
There is a legend saying that Miguel de Cervantes was enslaved by pirates from Ulcinj. Maybe there is hidden treasure laying somewhere just waiting to be discovered by some brave kitesurfer.
You should definitely put exploring Ulcinj on your bucket list while you are here, and do not forget to bring esssential Sherlock Holmes's gear.
After all, it is only 12km away from the kiteboarding spot.
Now, let's us go towards the beach where we really want to be. Oh, to reach us you can walk (most unlikely with those backpacks), you can take a taxi or a minibus to Štoj or arrange for pick up.
long beach
realy long beach
Velika plaza
(Long beach), near Ulcinj in Montenegro is
the
kiteboarding location on the Adriatic Coast.
Only sea between you and the horizon. Places closest to Ulcinj can get really crowded during the high season but as you go further south down the beach it becomes kitesurfers paradise.
Fourteen kilometres strip of petty sand beach with strong cross onshore winds blowing almost every day during summer afternoons makes it ideal for safe learning. During the summer average temperature is 34°C, water temperature average is 23°C. Wetsuit is a matter of preference. Along the beach you can ride superb chop and wave conditions most of the time.
Let's move on, You will have enought time to enjoy walking up and down the beach and watching sunsets.

Kiteloop
rooted
Once we came here we felt like we never want to leave
Set in a protected natural area, surrounded by dunes and hidden by alluvial forests you will find the perfect spot to spend summer holidays on your own, with friends or your family.
It is hard to find better and safer surrounding to learn kiteboarding than here.
Shallow, warm water and constant thermal wind make learning here a pure joy. No obstacles in or out of the water. Tides don't affect riding or safety. Current is not that strong to present any significant danger.
Flat water spot is located at the southeast end of the beach, inside the river mouth. Just 2km downwind from us.
By now, you must be thinking "these guys are fantasizing, this is too good to be true". But wait, soon you will see for yourself. We are not daydreaming.
This place is our base camp and we keep coming back. We have two more places to visit before the end of this sightseeing tour.

River Bojana
Mighty and calming
River Bojana (alb. Buna, lat. Barbana) emerges from the lake Skadar. It is only 44 kilometres long, but by discharge (river's water flow) into Mediterranean sea, it takes the third place after the Nile and river Po in Italy.
It is easy to get carried away by the tranquility of this mighty river from a terrace of some stilt house or a cozy restaurant.
From Kiteloop you can reach the river by the kite, SUP, foot, or by the car if you like.
And yes, you can have a nice flat water kiting session in the river mouth.
ada bojana
Adam and eve island
Ada Bojana is a river island at the very end of Long beach. It is located on the southernmost tip of Montenegro, with only the Bojana river separating it from Albania. The New York Times listed Ada Bojana as one of the top travel destinations a few years ago.
This beautiful island is an official naturist area or Freikörperkultur (FKK) as Germans call it. You might even try to kitesurf naked. Worth of your bucket list?
We will give you one more tip regarding kiteboarding. Inside the river mouth the water is flat as a pancake.
There is a legend saying that some guy, called captain Naporeli, supposedly wrecked his ship called "Merito" here. And that the island was formed on top of a ship sunk.
At the end, there is one quick question for you. From which language the name Ada originates?